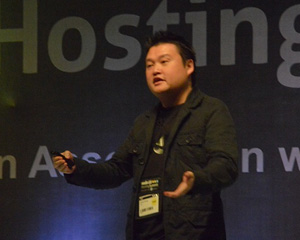 DELHI, INDIA -- Edmon Chung, DotAsia CEO, presented at the ResellerClub Hosting Summit Friday on the importance of IDNs and its implications for small businesses.
Chung says that the purpose of an IDN is to get more people online. With localized domain names, it is easier for businesses to relate to customers. Businesses in India use local language and this becomes an added advantage for SMBs, he says.
Why a Domain Name is Critical
"On the internet, perception is a reality," he says.
Domain names once were used as merely a navigation tool but they are now recognized as a brand itself. Chung says 30 percent of Google's ranking algorithm is based solely on domain names.
He iterated the common mistakes done by SMEs, which are as follows:
Deciding on a company name before a domain name: Chung says that this selection should go hand in hand; that is, a company name should be decided by keeping the domain name in perspective.
People tend to register very long domain names which makes it very tough to memorize or recollect thereby losing its novelty.
People are generally not willing to spend too much on domain names.
more >>